Orange Cream Blender Mix
Fruit-n-Ice offers delicious blender mixes which are formulated with the highest quality ingredients to deliver a great tasting product with enhanced blending characteristics. Fruit-n-Ice blender mixes are made with 100% juice concentrates to offer a more natural, fresh tasting frozen fruit drink. Whether you are creating a fruit smoothie, or blended alcoholic and non-alcoholic cocktails; with Fruit-n-Ice the possibilities are endless. Fruit-N-Ice Blender mix can also be used to flavor yogurt, gelato and ice cream as well as other dessert applications.
Fruit-N-Ice blender mix is a shelf stable product bottled in plastic 1 QT. (32oz) containers with an easy grip neck. It does not require being frozen or refrigerated and has an average shelf life of 12 months which can be prolonged if stored in a cool dry place.
Most Fruit-N-Ice Blender Mix flavors are OK Kosher certified.
Packaging: Six (6) 1 Quart (32oz) bottles per case
Ratio: 3 Parts Water or Ice to 1 Part Fruit-N-Ice
Yield: 768oz /approximately 64 12 oz drinks
Basic Mixing Instructions
Blender:
Add 3oz of Fruit-n-Ice Blender mix
with 8-12oz of ice according to taste
Blend and serve in a 12oz glass
*optional add1-1.5 oz liquor
Frozen Drink Machine:
Mix one bottle (1 QT.) of Fruit-N-Ice Blender mix
with 3 Quarts of water
Shake well and pour into machine
Please visit our Recipes page for creative and tasty Fruit-n-Ice recipes.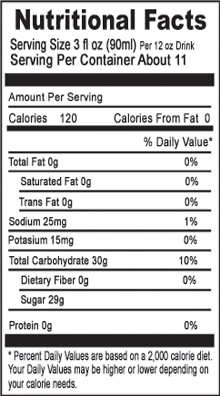 Frozen Orange Creamsicle (Cocktail)
Pour 3 oz of Fruit-N-Ice Orange Cream Blender Mix and 1.25 oz Vodka into blender cup. Add 8-12 oz of ice according to taste. Blend and serve in a 12 oz glass.